Gallaher · Bagby · Hemley · Hall · Ellis · Savage · Brumsted · Johnston · Sinclair · Miller · Carlin · High · Harriss ·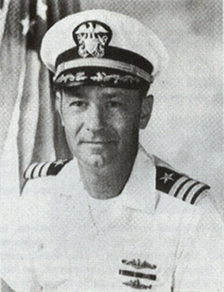 CDR Clarence (Joe) Taff Jr
Dec 1969 - Jun 1971
Clarence O. Taff, JR., is a 1956 graduate of the United States Naval Academy and upon commissioning was assigned to the USS SAIPAN (CVL-48). His next assignment, in 1957, was to the USS CANBERRA (CAG-2) for a two year tour of duty. He attended Submarine School in the summer of 1959, and served on board the USS GREENFISH (SS-351) for three years before attending a two year course at the U. S. naval Post Graduate School in Monterey, CA. His next assignment was aboard the USS THEODORE ROOSEVELT (SSBN-600) in which he served as Navigator for three years. Following his Fleet Ballistic Missile submarine duty, he served as Executive Officer aboard the USS TENCH (SS-417) for two years.
LCDR Taff's next assignment was as Commanding Officer, USS BLENNY (SS-324) until that ship was inactivated in October 1969. LCDR Taff assumed command of the USS BANG (SS-385) in December 1969. While in command of BANG Captain Taff was advanced to CDR. Upon completion of his BANG command tour in July 1971 his next assignment was as U.S. Special Projects Liaison Officer UK (SPUK) to the Chief Polaris Executive of the United Kingdom Ministry of Defense, London, England for four years.
In September 1975 he was assigned as Executive Officer of the Strategic Weapons Facility, Pacific (SWFPAC) Bangor, WA for four years. He was next assigned as Officer in Charge, Strategic Weapons Project Office, Detachment C, Sperry Corp., Great Neck, NY for two years before assuming command in July 1981 fo the Navy Astronautics Group, Point Magu, CA for five years. Captain Taff retired from the Navy in 1986 with 36 years of total active service. His awards include the Legion of Merit, Secretary of the Navy Achievement Medal and two Navy Unit Commendations.
Captain Taff departed on eternal patrol on July 26, 2016.