Gallaher · Bagby · Hemley · Hall · Ellis · Savage · Brumsted · Johnston · Miller · Carlin · High · Taff · Harriss ·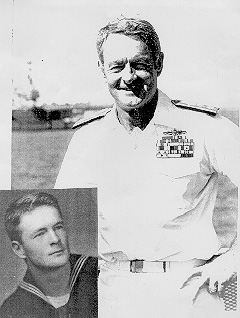 LCDR Alexander Sinclair
Jul 1962 - May 1964
Alexander M. Sinclair was born in Santa Cruz, CA on January 30, 1927. He enlisted in the U.S. Navy in 1944, attended boot camp in San Diego and served as a hospital corpsman. Upon graduation from the Naval Academy Prep School he attended the U.S. Naval Academy via fleet appointment and graduated in June 1951. From 1951 to 1953 he served aboard USS ANTIETUM (CVA 36), USS YORKTOWN (CVA 10), USS SHANGRILA (CVS 38) and USS FIRECREST (AMS 10). He graduated from Submarine School in 1954 and had assignments on board the USS RASHER (SS 269), USS BAYA (AGSS 318), and USS PARCH (SS 384).
LCDR Sinclair served as Executive Officer on the USS PIPER (SS 409) and as Commanding Officer of the USS BANG (SS 385) from July 1962 to May 1964. While in command of the USS BANG the submarine made a highly successful Special Operations Patrol in the Barents Sea off the Kola Inlet. Following a tour on COMSUBPAC STAFF as an instructor in Prospective Commanding Officer School in Pearl Harbor, LCDR Sinclair held numerous assignments from 1968 to 1982 including Executive Officer on USS Dale (CG 19) and Commanding Officer USS EDWARD McDonnell (DE 1043) and Commanding Officer (USS LEAHY (CG 16). During this period he was selected for Flag Rank and served as Commander Cruiser - Destroyer Group 5 - PACIFIC FLEET. ADMIRAL Sinclair retired from the Navy in 1982.
Upon retiring from the U.S. Navy, Admiral Sinclair completed George Washington Law School and was admitted to the Washington, DC bar. He clerked for a Superior Court Judge and later served as a Public Defender in Washington, DC.
Admiral Sinclair departed on eternal patrol from Mc Lean, VA on September 14, 2009, at age 82. He is burried in Arlington National Cemetery.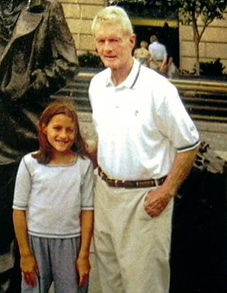 Alex Sinclair in 2000 with granddaughter Katelyn