Gallaher · Bagby · Hemley · Hall · Ellis · Savage · Brumsted · Sinclair · Miller · Carlin · High · Taff · Harriss ·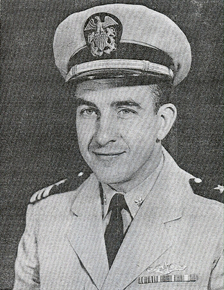 LCDR Richard C. Johnston
Aug 1960 - Jul 1962
Richard C. Johnston entered the Navy in 1943 and was commissioned as an Ensign in June 1946 at the Naval Reserve Officers Training Unit, University of Notre Dame, Notre Dame, Indiana. His first duty assignment was in the USS RODMAN (DMS 21). Following graduation from Submarine School in June 1949, he was a member of the commissioning details of and served in the submarines GRAMPUS and SALMON. He also served in ODAX. He briefly commanded the submarines COBIA and BONITA prior to their inactivation. Ashore, he served in the Officer Distribution Branch, Bureau of Naval Personnel, Washington, D.C. and as senior instructor of the Polaris Guided Missile Factory Unit, Lockheed Missiles and Space Division, Sunnyvale, California.
Lieutenant Commander JOHNSTON assumed command of The USS BANG (SS-385) on August 27, 1960. BANG was a unit of Submarine Division 101 and Submarine Squadron 10 home ported in New London, Connecticut.
Captain Johnston departed on eternal patrol on October 15, 2015.