Gallaher · Bagby · Hall · Ellis · Savage · Brumsted · Johnston · Sinclair · Miller · Carlin · High · Taff · Harriss ·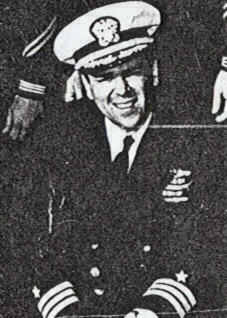 CDR Eugene A. Hemley
Feb 1951 - Oct 1952
Eugene A. Hemley was born in Brooklyn, N.Y.in 1920. He attended Columbia College and graduated from the U.S. Naval Academy at Annapolis in 1940. He attended the U.S. Naval Submarine School, the U.S. Naval Post Graduate School, and received a M.S. in International Affairs from George Washington University.
CDR. Hemley served in World War II as electrical officer on the cruiser USS Nashville (CL-43) and then volunteered for submarine duty. He made seven war patrols in the Pacific on submarines USS Seadragon (SS-194) and USS Greenling (SS-213) and was awarded the Silver Star medal. After the war he served as Executive Officer of submarine USS Becuna (SS 319) and subsequently served as Commanding Officer of submarines USS Bang (SS-385) and USS Volador (SS-490), destroyer USS Bristol (DD-857), amphibious flag ship USS Taconic (AGC-17), and cruiser USS Northampton (CA-125). He was later served as Commanding Officer of the U.S. Naval Communications Station, in Yokosuka, Japan, and was head of the War Gaming Dept at the Naval War College in Newport, R.I. At the time of his retirement from the Navy after 30 years of service, he was a Captain and Deputy Director of Navy Information Systems.
Moving with his family to Scarsdale, N.Y. in 1970, Capt. Hemley commuted to New York City where he was director of management information systems at the headquarters of the National Girl Scout Organization. He then became executive director of the National Council on International Trade Documentation, and business advisor at meetings of the United Nations Economic Committee for Europe in Geneva, Switzerland.
In Scarsdale, Capt. Hemley was a member of the Citizens Committee and belonged to the Scarsdale Historical Society, the Fox Meadow Association, the American Legion, and was a past president of the County Tennis Club.
He was a past president of the Naval Academy Alumni Association of New York., a member of the New York Yacht Club, and at the time of his death, was Commander of the New York Chapter of the Naval Order.
Eugene A. Hemley died on Veterins Day, November 11, 2004. He was 84 years old.