Gallaher · Bagby · Hemley · Ellis · Savage · Brumsted · Johnston · Sinclair · Miller · Carlin · High · Taff · Harriss ·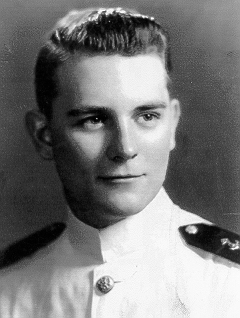 LCDR Perry Hall
Oct 1952 - Jan 1955
Perry Hall was born on October 17, 1919.
He graduated from Hamilton High School in Trenton, NJ in June 1937 and was called to active duty after enlistment in October 1937. Upon completion of recruit training at the Naval Training Station, Newport, RI, he served aboard the USS Pennsylvnia (BB-38) as an apprentice seaman. After completing the Naval Prepatory School held in Norfolk, VA in October 1938 he entered the United States Naval Academy in July 1939.
After graduation he served aboard the USS Sterett (DD-407) in the Pacific during World War II taking part in the landings on Guadalcanal, the Battle of Guadalcanal, the Battle of Villa Gulf and other operations and forays in that area. The Sterett was damaged during the Battle of Guadalcanal and received the Presidential Unit Citation for her part in this engagement. Lieutenant Commander Hall received the Bronze Star for his performance of duties as damage control officer.
His tour of duty in submarines started in December 1943 upon completion of submarine school. He first served aboard the school training submarine USS O-6. He was serving aboard the USS Chopper (SS-342) at Pearl Harbor when the pacific war ended. Since the war he has served aboard the USS Sea Devil (SS-400), the USS Caiman (SS-343) and the USS Spikefish (SS-404).
LCDR Hall put the USS BANG (SS-385) back in commission as Commanding Officer on October 4, 1952.
Perry Hall died on December 23, 2000 in Milford, DE at the age of 81.