Gallaher · Bagby · Hemley · Hall · Ellis · Savage · Brumsted · Johnston · Sinclair · Miller · Carlin · Taff · Harriss ·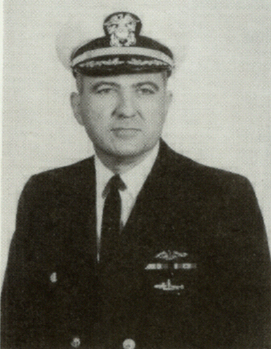 CDR James T. High Jr
May 1968 - Dec 1969
James T. High Jr was born in Opelika, AL on June 2, 1929 and grew up in Auburn and Tuscaloosa, Al. He received a Bachelor of Arts Degree from Vanderbilt University in Nashville, TN in January 1952 and graduated from the US Navy Officer Candidate School in January 1954. He served in the USS Hornet (CVA-12) until June 1955 and entered Submarine School in July of that year.
After graduation from Submarine School he served on the USS SEA POACHER (SS406) and USS SEA CAT (SS-399). From July 1960 until August 1962 he served at the U.S. Naval Submarine School as Director of Reserve Training and as an instructor in the Engineering Division. He then served on board the USS DOGFISH (SS-350) until February 1963, when he was ordered to the commissioning crew of the USS TECUMSEH (SSBN-628). As navigator, he completed the first two patrols made by the Blue Crew in the Pacific, receiving a COMSUBPAC commendation for his performance in that duty.
Upon detachment from TECUMSEH he served for a short period as Director of FBM Training, Fleet Submarine Training Facility, Pearl Harbor, HI. In December 1965, he was ordered to the Staff, Commander Submarine Force, U.S. Pacific Fleet as Assistant Polaris Operations Officer where he served until January 1967. From February 1967 until March 1968, CDR High served as Executive Officer of the USS ENTEMEDOR (SS-340). In May 1968 he took command of the USS BANG (SS-385). Upon leaving BANG in December 1969 he reported to the office of Chief of Naval Operations and later to the naval Recruiting Command. From 1973 to 1974 he attended the National War College. In 1975 he reported to the Office of Legislative Affairs and served as Director, Navy Senate Liaison until April 1978. From June 1978 until March 1981, Captain High commanded Naval Recruiting Area Three which covers the south-eastern US. In June 1981, he was assigned as Officer in Charge of the Navy Recruiting Orientation Unit in Orlando, FL. Captain High's last tour was as Director, U.S. naval Command Center, Pentagon, Washington, DC.
James T. High Jr died in Martinsburg, WV, on December 22, 2003, at age 74.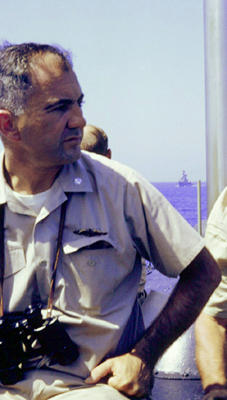 Commander High on the bridge - 1968