SAILING LIST Philadelphia, PA - October 1 - 4, 2018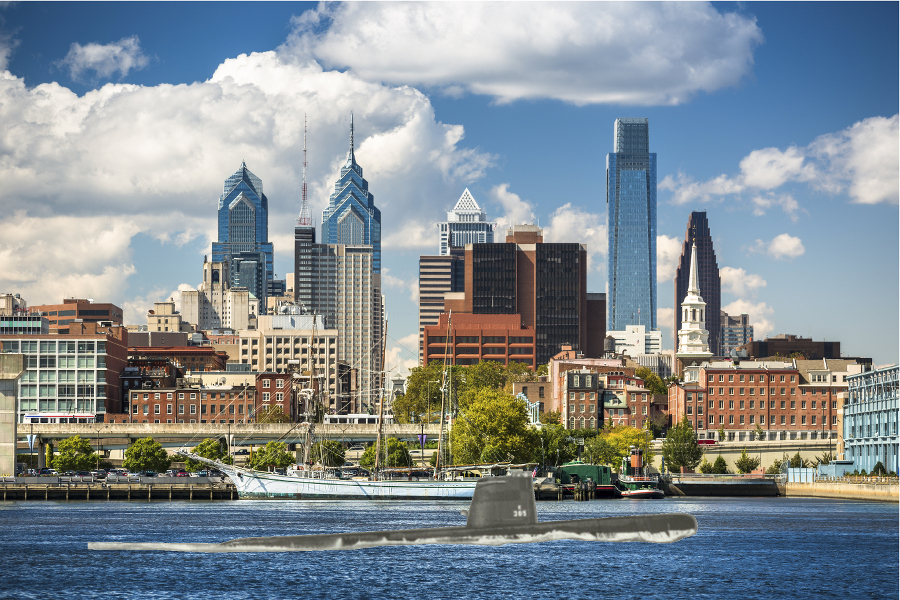 The 75th diamond anniversary reunion of BANG has come and gone. Our hosts, Ike Cohen and Michelle Ostapiej wanted to make this one special and indeed it was! They planned many surprises for us during our four days in Philadelphia including a great lunchtime musical show by three sisters on the fantail of the battleship New Jersey, specially minted challenge coins from the four BANG flags and patches and BANG pins for the ladies as well as the presentation of a flag that flew over the US Capitol building and a congratulatory letter on BANG's 75th anniversary from the President of the United States!
Ike and Michelle also arranged for Matt Fash and his mom and dad from the US Navy Memorial in Washington, DC to spend two days with us conducting and videoing interviews with BANG sailors who volunteered to recount memories from their time on BANG. Thirty of us volunteered and these video interviews will be professionally edited and posted on the Navy Memorial web site for all to view for posterity. Thanks to all who participated in these interviews helping us, "... perpetuate the memory of the USS BANG, and the men that served aboard her."
Final as of 9/30/2018
53-55
Charles Kimball
EM
Estelle & Mark Walerzak
Guests
55-59
Gary & Dae Probst
EN
64-66
Harry and Jo Ann Ross
ST
56-58
Marvin and JoAnn Christenson
ET
64-67
Jack & Diane O'Connor
MM
56-58
Dick & Chris Flanagan
RM
Frank & Claudia Steinmetz
Guests
56-59
Phil & Dot Beals
CS
66-68
Gabe and Pam Lewis
FTGU
57-60
Deane & Connie Hadfield
EN
Diane & Karla Lindquist
Guests
57-60
Wayne & Elaine Thalasinos
TM
66-69
Charles Dougherty
MM
58-62
Dick Gahan
IC
67-68
Eric & Sally Ericson
TM/td>
Kathy Seader
Guest
67-68
Jim & Esther Hampton
ET
62-65
Charles & Patricia Archer
RM
67-68
Denis & Maureen O'Brien
TM
63-64
David Smith
FTG
67-68
James & Harriet Schultz
TM
63-65
Lawrence Schafer
ET
67-70
Rob Bridle
EN
63-66
Rocco & Nancy DeLeo
EM
68-69
Alan & Linda Thole
IC
63-66
Ed & Jane DeLong
EN
68-70
Tom & Rose Hill
MM
63-66
Len Fagotti and Marilyn Barratt
EN
68-70
John and Darlene Kraft
RM
64-66
Jim and Yolanda Klein
EN
68-71
Bill and Joan Fenton
LT
Harley Jr, Jennifer, Shelby & Harley III Wilson
Guests
70
Ike Cohen & Michelle Ostapiej
SK
Our Hosts
Harley Sr. & Kathleen Wilson
Guests
70-71
Paul Schramm
ET
Gerald & Judith Holmberg
Guests
71-72
Luis Arellano & Wendy Kingsbauer
ST
Reunion Hotel Information Schedule of Events