Reunion Tours
Philadelphia
The country's first World Heritage City, Philadelphia is also the birthplace of the United States, where our Founding Fathers met, discussed, debated and formed a new country.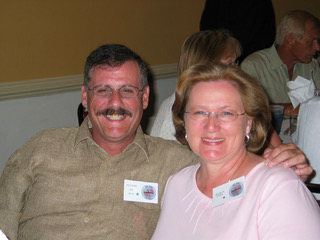 Our Hosts Ike Cohen (SK 70) and Michelle Ostapiej
1.) Monday, October 1st - Arrival Day
Today is a day to get checked in to the hotel and renew old acquaintances. The hospitality room opens at 12:00 Noon in the spacious Malvern Room.
2.) Tuesday, October 2nd $50 per person (Lunch Included) 8:15 AM Departure (This is a change from previously announced time.) - All aboard our luxurious motor coach for a tour of historic Philadelphia center city.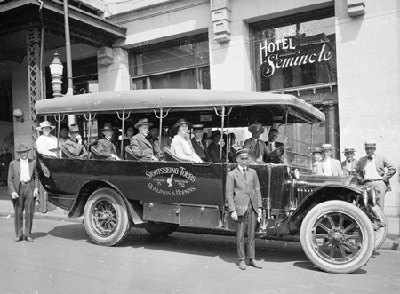 At 8:30 AM our air conditioned motor coach departs our hotel for an overview tour of the city of Philadelphia. We'll see many famous locations such as the "Rocky steps" and statue at the Philadelphia Art Museum from the Sylvester Stallone movie Rocky, The Benjamine Franklin Museum, Ben Franklin's Print Shop, the Betsy Ross House and Elfreth's Alley, our nation's oldest residential street which dates to 1702. There are 32 houses on the street, which were built between 1728 and 1836. Elfreth's Alley is named for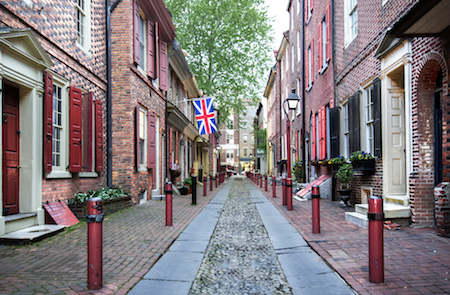 Jeremiah Elfreth, an 18th-century blacksmith and property owner. Among the alley's residents were tradesmen and their families, including shipwrights, silver and pewter smiths, glassblowers, and furniture builders. The Georgian and Federal-style houses and cobblestone pavement of the alley were common in Philadelphia during this time. In 1934, the Elfreth's Alley Association (EAA) was founded to preserve the alley's historic structures while interpreting the street's 300-year history.
We will also pass through Society Hill. Settled in the early 1680s, Society Hill is one of the oldest residential neighborhoods in Philadelphia. Society Hill is one of the most expensive neighborhoods with the highest average income and second highest real estate values in Philadelphia. Society Hill's historic colonial architecture, along with intelligent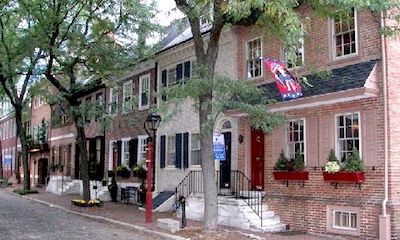 planning and restoration efforts, led the American Planning Association to designate it, in 2008, as one of the great American neighborhoods and a good example of sustainable urban living. The neighborhood contains one of the largest concentrations of original 18th and early 19th-century buildings in the United States. Society Hill is noted for its Franklin street lamps, brick sidewalks, cobblestone and Belgian block streets bordered by two to four-story brick rowhouses in Federal and Georgian architecture, and public buildings in Greek Revival architecture such as the Merchants' Exchange Building and the Old Pine Street Church.
---
We will stop for lunch (included) at Philly's Gourmet Steaks where the famous Philly Cheese Steak sandwich with fries and a soft drink is featured. If you don't care for a cheese steak, there are burgers, cheeseburgers with fries and a soft drink or a huuuuuge buffet with many appetizing selections.
---
Christ Church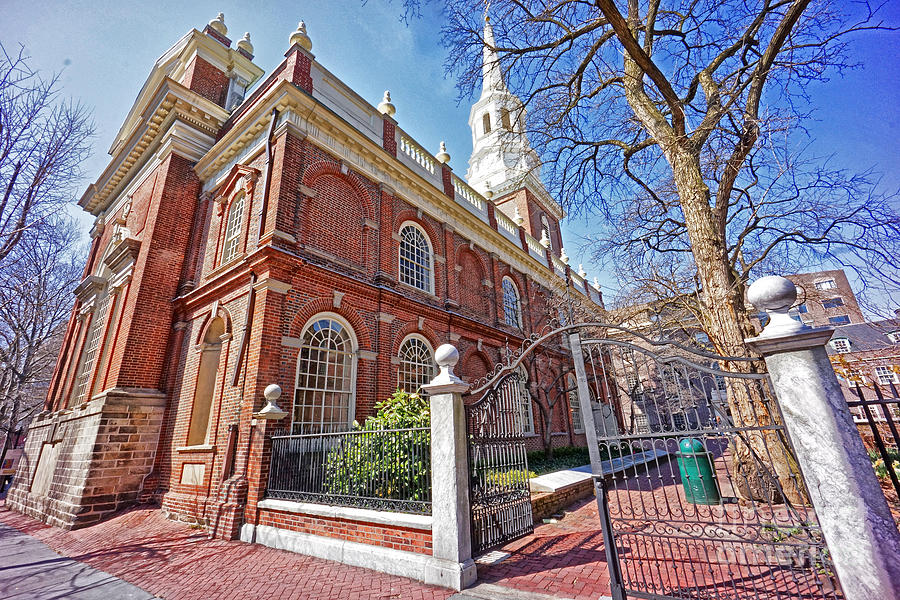 A wonderful example of Georgian Colonial architecture, Christ Church is bordered by a tree-lined brick path, a small park and a cobblestone alley, which provide the perfect setting for this historic treasure. The tower and steeple made it the tallest building in America until 1856. Once the home of worship for prominent history-makers, including Benjamin Franklin, William Penn, Betsy Ross and George Washington, Christ Church remains an active Episcopal Church and continues to hold weekly services. Nearby is the who's-who Burial Ground of the Colonial era, where visitors can toss a penny on Benjamin Franklin's grave for good luck.
---
Following lunch and a chance to visit the oldest chocolate factory in the country we will tour Independence Hall.
NOTE: WE WILL HAVE TO SHOW ID's AND PASS THROUGH SECURITY INCLUDING METAL DETECTORS TO VISIT INDEPENDENCE HALL AND AGAIN TO VISIT THE LIBERTY BELL. ANY METAL ITEMS SHOULD BE LEFT AT THE HOTEL OR ON THE BUS.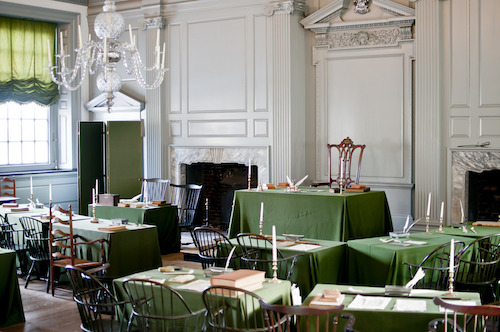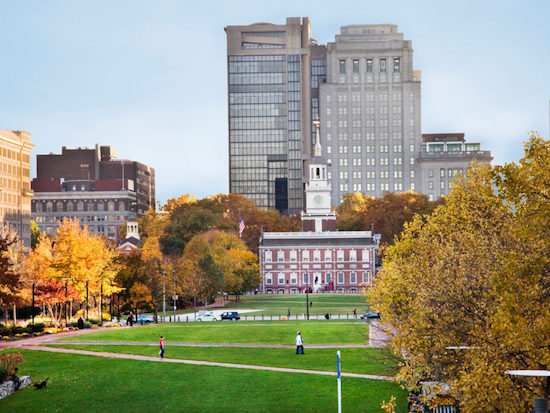 They risked everything — "their lives, their fortune and their sacred honor."

During the blistering summer of 1776, 56 courageous men gathered at the Pennsylvania State House and defied the King of England. Eleven years later, representatives from 12 states gathered to shape the U.S. Constitution, finally creating one unified nation. George Washington's "rising sun" chair dominates the Assembly Room which is arranged as it was during the original Constitutional Convention. In the adjacent West Wing, the actual inkstand used to sign the Declaration of Independence and an original draft of the Constitution are prominently displayed.

Abraham Lincoln's funeral train (the "Lincoln Special") left Harrisburg on Saturday - April 22, 1865 at 11:15 AM and arrived at Philadelphia at Broad Street Station that afternoon at 4:30 PM. It was carried by hearse past a crowd of 85,000 people and was held in state in the Assembly Room in the east wing of Independence Hall. Over 300,000 mourners viewed the body - some waiting 5 hours just to see him.

The Liberty Bell is an iconic symbol of American independence, The bell acquired its distinctive large crack some time in the early 19th century—a widespread story claims it cracked while ringing after the death of Chief Justice John Marshall in 1835.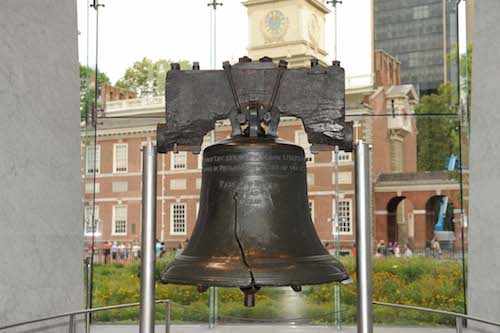 No one recorded when or why the Liberty Bell first cracked, but the most likely explanation is that a narrow split developed in the early 1840's after nearly 90 years of hard use. In 1846, when the city decided to repair the bell prior to George Washington's birthday holiday, metal workers widened the thin crack to prevent its farther spread and restore the tone of the bell using a technique called "stop drilling". The wide "crack" in the Liberty Bell is actually the repair job! Look carefully and you'll see over 40 drill bit marks in that wide "crack". But, the repair was not successful. The Public Ledger newspaper reported that the repair failed when another fissure developed. This second crack, running from the abbreviation for "Philadelphia" up through the word "Liberty", silenced the bell forever. No one living today has heard the bell ring freely with its clapper
At the completion of today our coach will whisk us back to the ever popular hospitality room.
3.) Wednesday, October 3rd $75 per person (Lunch Included) 8:15 AM Departure (This is a change from previously announced time.)- Submarine USS Becuna, Cruiser USS Olympia and the battleship USS New Jersey
Launched in 1944, Becuna (SS-319) completed five wartime patrols in the Pacific. Becuna is a BALAO-class submarine built in New London, CT. During World War II, "Becky" prowled the Pacific Ocean for Japanese ships. Converted in 1951 to a Guppy 1A type with sophisticated radar and torpedo equipment, she is the only Guppy 1-A submarine on display.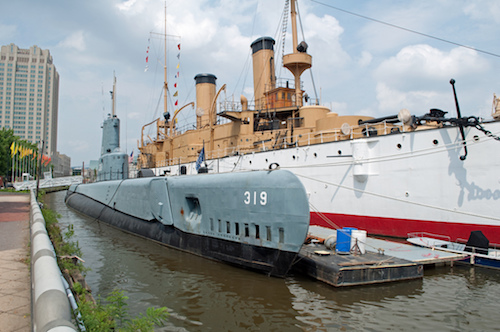 Becuna was decommissioned in 1969 and has been part of Independence Seaport Museum's Historic Ship Zone since 1996. Becuna is a National Historic Landmark and is on the National Register of Historic Places. In 2001, Becuna received the American Welding Society's Historical Welded Structure Award and is an official project of Save America's Treasures.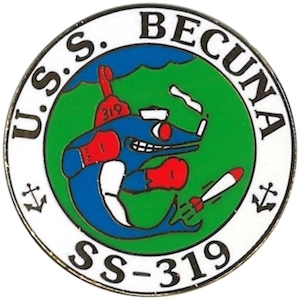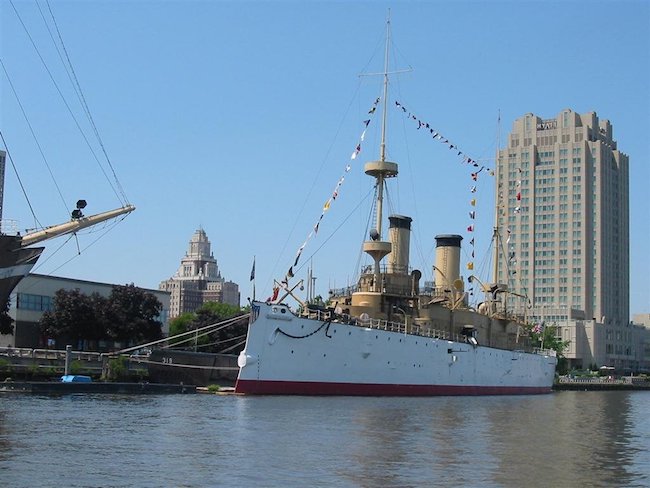 USS Olympia is a cruiser that saw service in the United States Navy from her commissioning in 1895 until 1922. This vessel became famous as the flagship of Commodore George Dewey at the Battle of Manila Bay during the Spanish–American War in 1898. The ship was decommissioned after returning to the U.S. in 1899, but was returned to active service in 1902.

She served until World War I as a training ship for naval cadets and as a floating barracks in Charleston, South Carolina. In 1917, she was mobilized again for war service, patrolling the American coast and escorting transport ships.

In 1921, the ship carried the remains of World War I's Unknown Soldier from France to Washington, D.C., where his body was interred in Arlington National Cemetery. Olympia was decommissioned for the last time in December 1922 and placed in reserve.

In 1957, the U.S. Navy ceded title to the Cruiser Olympia Association, which restored the ship to her 1898 configuration. Since then, Olympia has been a museum ship in Philadelphia, where it is now part of the Independence Seaport Museum. Olympia was designated a National Historic Landmark in 1966.
---
Next we will visit the USS New Jersey (BB-62) where we will have lunch (included). The New Jersey is an Iowa-class battleship, and was the second ship of the United States Navy to be named after the US state of New Jersey. New Jersey earned more battle stars for combat actions than the other three completed Iowa-class battleships, and was the only US battleship providing gunfire support during the Vietnam War.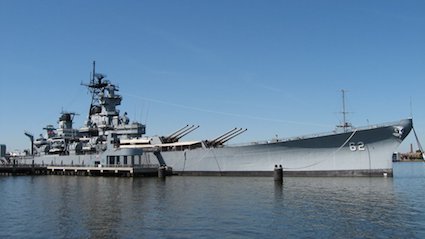 During World War II, New Jersey shelled targets on Guam and Okinawa, and screened aircraft carriers conducting raids in the Marshall Islands. During the Korean War, she was involved in raids up and down the North Korean coast, after which she was decommissioned into the United States Navy reserve fleets, better known as the "mothball fleet". She was briefly reactivated in 1968 and sent to Vietnam to support US troops before returning to the mothball fleet in 1969. Reactivated once more in the 1980s as part of the 600-ship Navy program, New Jersey was modernized to carry missiles and recommissioned for service. In 1983, she participated in US operations during the Lebanese Civil War.

New Jersey was decommissioned for the last time in 1991 (after serving a total of 21 years in the active fleet), having earned a Navy Unit Commendation for service in Vietnam and 19 battle and campaign stars for combat operations during World War II, the Korean War, the Vietnam War, the Lebanese Civil War, and service in the Persian Gulf. After a brief retention in the mothball fleet, she was donated to the Home Port Alliance in Camden, New Jersey, and began her career as a museum ship 15 October 2001.
---
4.) Thursday, October 4th 8:45 AM An optional guided tour of QVC (one of the two major television shopping networks) for the LADIES and GUESTS is available and will leave the hotel at 8:45 AM (NOTE: time change) and return at approximately 11:30 - 12:00 AM. NOTE: Bang Gang shipmates will hold their business meeting begining at 9:00 AM. This trip will include a one hour tour of the studio and additional time to shop. Cost is $10 per person. QVC is 8 miles from our hotel and tour participants will need to car pool to get there. Currently there are 14 people attending that need transportation. Please let Isaac (Ike) know if you can help out with this at The Hospitality Room. There will be a sign-up sheet for those who can provide transportation. Thank you very much. NOTE: ID and metal detector check are required by QVC. 9:00 AM Business meeting for all shipmates. 9:00 AM Ladies Bingo
5:30 PM Banquet tonight - $60 per person
The rest of the day will be free to explore on your own. You could return to Philadelphia to explore some of the other interesting attractions the city has to offer or if you prefer to venture further out, visit one of the many great area attractions listed below.
Great Area Atttractions

Registration Form

Return to Reunions Page