Information pertaining to the people that served on the BANG
For a current listing of Bang Shipmates click here.
If you have additional information on shipmates whereabouts please contact me at Webmaster
There were three commissioning crew's. In addition to BANG's original commissioning after construction and launch in 1943, BANG was decommissioned and placed in the reserve (mothball) fleet after WWII on February 12, 1947. Brought out of reserve for the cold war, she was recommissioned on February 1, 1951. On May 15, 1952 BANG was again decommissioned for modernization and conversion to a GUPPY IIA submarine. BANG rejoined the fleet following her third and final commissioning on October 4, 1952.
BANG was finally decommissioned from the US Navy for the last time on September 28, 1972 upon transfer to Spain and being renamed the COSME GARCÍA (S-34). COSME GARCÍA continued to serve in the Spanish navy for another 10 years. The first commissioning crew and the final decommissioning crew as well as the second and third commissioning crews are memorialized here.
Commissioning Crew
USS BANG (SS385)
4 December 1943



OFFICER PERSONNEL
| | |
| --- | --- |
| GALLAHER, Antone Renkl Lcdr - CO | WELCH, Brian Grant Lt |
| BAGBY, Oliver Walton Lt - XO | WARDEN, James E. S. Ltjg |
CHIEF PETTY OFFICERS
ASHMORE, James CMoMM(PA) - COB
BARRELL, David Clarence CEM(AA)
PARKER, John Alexander CTM(AA)
ENLISTED PERSONNEL
BATES, Bert Samuel GM2
KOCI, Richard Harold MoMM3
BENSON, Raymond Frank RT2
KRACKER, Edward Henry EM3
BAIRS, Kopel Sidney S2
KRAIMER, Harold Charles EM1
CALDWELL, John Robert SC2
LAFONTAINE, Joseph Charles TM3
CARDAMONE, David Gabriel TM1
LANE, LeRoy Richard EM1c
CARLSON, Roger LaVerne SC3
LARSON, Leonard Paul TM2
CHAMP, Joseph Walter QM3
LASATA, John Casmir MoMM2
CONN, Dwight William RM2
LEMMON, John Paul MoMM1
CRENSHAW, Jack Henry PhM1
LITTLER, James Leslie Y1
DUFFY, Pearce Rally S2
LOWE, Eugene Thomas S2
EISFELDT, JR, Gustave RM1
MAYER, Joseph James RM1
FERRIS, William Foster MoMM3
MCCULLY, Willie Joe EM3
FISK, Harold Roy SC1
MCLAUGHLIN, JR, Charles Francis MoMM1
FLOYD, Cecil Earl FC3
MEYER, Edward Joseph TM1
FOGLESONG, Lloyd Wilber MoMM1
MURPHY, Bernard William MoMM2
GALE, Robert Franklin QM2
NORDMARK, Sigvard Julius F3
GOSS, George Henry EM1
OGDEN, Herbert Richard SM2
GURREN, JR, Edward John MoMM1
PALLO, Stephen Charles MoMM3
HANSEN, Philip Edward MoMM2
RELICH, Nick S1
HEINZ, Vincent Francis MoMM2
REYNOLDS, JR, Lewis James EM1
HERZOG, Robert Benjamin S2
REIL, Harold Jerome S1
HOLMAN, Earl Thomas MoMM1
ROSENFELD, Daniel Marshall F2
HOLT, Carl Chester StM2
ROWLES, JR, Elijah StM2
HUTCHINS, Joseph Ray MoMM2
RUZEK, JR, John S1
JOHNSON, Russel Carl MoMM2
SALEWSKE, Alfred William MoMM3
JONES, Donzil Law S2
SALVESEN, John Adolf TM3
JUTSTROM, Robert Alfred MoMM2
SCHAEFER, George Edwin TM3
KAWITZKY, Henry Orist EM3
TOMER, Phillip Charles S1
KEIM, Walter Walker TM3
TRUJILLO, Avelino S2
KERSBERGEN, Donald Frank S2
VALENTINE, Elgin Richard EM2
KIRK, Calvin Lee S2
VANGEN,Willard Roy EM2
KNIGHT, Ralph Marion MoMM3
WAGNER, Virl Reeves TM3
WALTERS, Carl Clifford SM1
Decommissioning Crew
USS BANG (SS385)
28 September 1972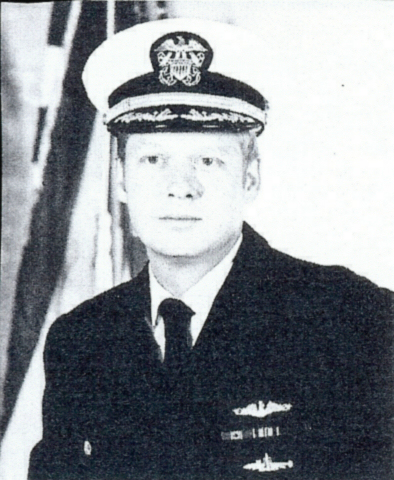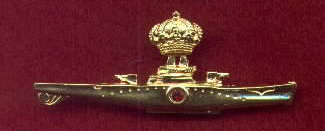 OFFICER PERSONNEL
| | | |
| --- | --- | --- |
| HARRISS, David J CDR - CO | | PETRINO, Richard A Lt - Communications |
| BOYER, Lawrence A Lcdr - XO | | SULLIVAN, Richard D Lt - Assistant Engineer |
CHIEF PETTY OFFICERS
BARNES, Clyde L TMC
NORRIS, Wayne D HMC
BOOKER, Donald L ETC
POWNALL, Carl W EMC
GIBSON, Leo E EMC - COB
WILSON, Edward ENC
MORENO, Frederick RMC
ENLISTED PERSONNEL
ALLMON, R L SK3
KOTTKE, David B STS3
BASILA, Hernando A SD2
KRUSE, Ray W SN
BLAHA, David A FN
LEFEBVRE, David E TM3
BROPHY, Alan A ENFN
MARCILLE, Frank J CS1
BUSHER, John J FN
McCANN, R A IC3
CASEY, Daniel J SA
McCORMICK, James M SN
CASSIDY, Ronald D TM3
MOORE, Michael D MM3
CIRUCCI, Edward J EN1
NICELY, Jorde K SA
DOAK, J T QMSN
PAWL, Woodrow F EM3
DOUGHERTY, Wayne H FTG2
PETROVITCH, C J TM2
EGGIMAN, Richard E EMFN
PIERSON, D E IC1
ELDER, Roger C EM2
RAUHALA, Peter M SA
ESCOREAL, Philip M TN
RAYMOND, Donald E SK1
GABLER, Douglas J SN
RIPLEY, Christopher R EM1
GIBBONS, Edwin L EN1
SCHAEFER, T J CSSN
GREER, John K EM1
SHAW, D A SKSA
HALL, Donald L MM3
SKOWRONEK, Thomas A TMSN
HELFERS, Frederick TM3
SPROCK, Gary W SN
HOLLOWAY, R J SN
STONE, P A STS2
HOOPER, Mark L FTG2
THEODORO, James D SN
HOUGHTON, Terry F ICFN
VOGEL, RobertL ETR3
HULBOJ, Michael J SN
VUOLO, J TMSN
IAMMARINO, Domenic A MMFN
WALBORN, K E TM3
JESSOP, Randall A EM3
WATTINGGER, C G EN2
JOHNSON, Michael C ICFN
WOODARD, Lawrence J TM3
JULIANO, Joseph E YN3
ZIRKLE, John R QM3
KORPI, William E YN1
Commissioning Crew
USS BANG (SS385)
2 February 1951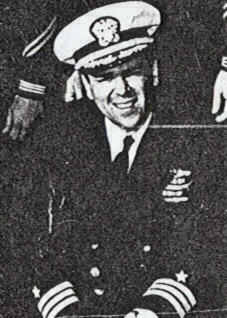 OFFICER PERSONNEL
HEMLEY, Eugene A Cdr - CO
BOLTON, Jordan T Ltjg
PHIPPS, Richard W Lcdr - XO
CHAMBERS, JR, Lloyd S Ltjg
THARP, Ted R Lt
KENNEDY, JR, Richard A Ens
BRANTON, Richard C Ltjg
CHIEF PETTY OFFICERS
AINLEY, Stanley J ENC
LA BARROW, Richard C EMC
AMUNDSON, Robert H HMC
MYERS, James A TMC
BENJAMIN, Russell L EMC
RYAN, Joseph E ENC
BLACK, Robert C ENC
SMITH, Francis C CSC
BOSSE, Bertrand B GMC - COB
SOCZEK, William FCC
FULTON, Robert R RMC
ENLISTED PERSONNEL
| | |
| --- | --- |
| ACKLES, Arthur E SN | LAUGHTER, Wade V TM1 |
| ARRIGO, Thomas A EN2 | LEWOCZKO, George EM1 |
| ASTERIADES, Basil A FCSN | LYNCH, JR, Edward H EN3 |
| BARNHART, Robert M QM2 | MARTIN, William E EM1 |
| BARTIE, Loundis SD2 | MAYO, Willie M TM |
| BLACKLER, Harvey R YN2 | MCHENRY, Charles S EMP3 |
| BOLTON, Kenneth R TM2 | MICHALOSKI, Henry S TM3 |
| BRUNDAGE, JR, George F SN | MOORE, Jack E END3 |
| CASTRO, Hector M TM1 | NOBLE, Robert W ET1 |
| CRONE, Robert N SOSN | NOONE, Francis P EN1 |
| CUMMINGS, James G FN | NUTT, Richard M ET3 |
| DE COURCEY, John J EN2 | OWEN, Robert F EMP2 |
| ECKERMAN, Orvin E ET2 | PARSCALE, James H QM1 |
| EDMINSTER, George S TM2 | PEARE, Elwin C EN3 |
| ELSHOLZ, Frank EN2 | PERREN, George E ENFN |
| ERICKSON, JR, Albert G CS2 | REGAN, JR, Fred EM3 |
| ERVINE Joseph H SN | ROBINSON, James H QM2 |
| FEDON, George F EN1 | ROSEBERRY, German B TMSN |
| FURNHOLM, William G EN3 | SCHMID, George G FN |
| GLENDENING, Jack O SN | SCOTT, Frank N RM1 |
| GLENN, Robert B SN | SHEA, Daniel A CS2 |
| GREEN, Calvin E EN1 | SHEPPARD, John R EM1 |
| HAINES, William B YN1 | SHOWALTER, Charles R GM3 |
| HARRIS, JR, William T TN | SMIALEK, John L TM2 |
| HENRICKSON, JR, George W FN | STANSELL, John A EN3 |
| HOLMAN, Earl T EN1 | STETZER, Glenn A SN |
| HORTER, Edward C RMN3 | STEWART, Thomas E SN |
| HULETT, Donald D ENFN | WATSON, James D QMQ1 |
| ICE, Robert D EM1 | WELLS, Charles P EN2 |
| KHUSE, Glenn M RM3 | WILLIAMS, Robert F TM3 |
| LARSEN, Martin LeRoy ENFN | YACKEL, Edward C SA |
Commissioning Crew
USS BANG (SS385)
4 October 1952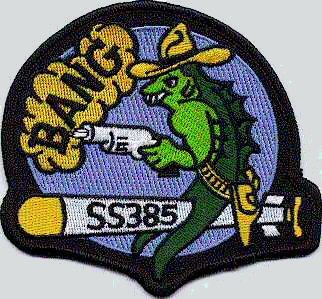 OFFICER PERSONNEL
| | |
| --- | --- |
| HALL, Perry LCdr - CO | BECK, Charles E Lt |
| FINDLY, Lee B Lt - XO | KLINEFELTER, John W Ltjg |
| HARMER JR, Frank D Lt | ANDERSON, Roy C Ltjg |
CHIEF PETTY OFFICERS
| | |
| --- | --- |
| AINLEY, Stanley J ENC | CASEY, John P TMC - COB |
| BLACKWOOD, James R FCC | DUPINGAY, Jackson SDC |
| BOSTROM, Earl E EMC | GRIFFITH, Robert E ENC |
| BUCZEK, Frank M EMC | WHITE, Robert E ENC |
ENLISTED PERSONNEL
ASSELIN, Raymond R QM1
LEWIS, Richard C SN
BARRINGER, Richard C SN
MACLEOD, Angus G TM2
BARTHOLOMEW, Donald L EN3
MATHEWSON, C H EN3
CAPPIS, Granville R EN1
MILLER, Herbert E SN
CARROLL, Richard B SOSN
NEIL, JR, John S TM1
CECIL, Robert I QM2
NOWACKI, Fred J TM2
COHENOUR, Boyd W EN3
NUTE, James W MNSN
CONRADI, Walter J FN
PEARE, Elwin C EN3
CRONIN, Joseph J EN1
PETTIS, Robert A FN
CROZIER, James R ENFN
PINA, Antone T SN
DOCKERY, William E ET3
PIPPIN, JR, Merrill D ET2
DOUGHERTY, Paul E TMSN
PRINCE, James B EN3
FINK, Ray EN3
PURDIN, Alfred W END3
FOGARTY, James M RM2
RHODES, Allen K TM1
Gilbert, JR, J W SN
ROACH, John W QMSN
GORDON, Robert I FN
ROCCO, JR, Peter P FN
HAGENKOTTER, Carl H YNSN
ROSS, John W RM1
HARMON, James P QMSN
SMITH, John G TM3
HENTZ, Leon EM2
SOUTH, Orval EN1
HIBBERT, JR, Edwin CS2
STIREWALT, Billie E ET1
HOLDER, Jimmie TN
VOLONINO, Dominick F SO3
HORTON, Orville E RMSN
VONDERLIETH, William H EM1
HUNTLEY, Gilvie H EN1
WAITE, Harvey J GM1
ICE, Robert D EM1
WALKER, Edward C TM2
JACKSON, Charles E YN1
WARD, Charles B CS3
JOHNSON, Darrell H SN
WATTS, Bert R CS1
JONES, Milton R EM2
WHITEHEAD, JR, Hreschel C SN
LEGERE, Paul H SN
WYLIE, John L FN
LENTZ, Robert E ENFN